01/22/2023
Member Q&A with Christopher Brown, MD
OSMA Thought Leadership
---
OSMA member leaders work tirelessly on behalf of our members to ensure OSMA is meeting the needs of physicians and responding to the ever-changing healthcare landscape.
---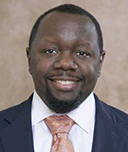 Christopher Brown, MD
District 7: Central Ohio

Member since 2022

Nephrologist
---
Q: Tell us about your medical career. What is your role and where are you currently practicing?
A: I started my medical career in academic medicine. While the beginning was very rewarding I decided to make my life interesting by leaving academic medicine for a career in the "real world". I became a hospitalist while continuing to do nephrology Locums for several years. 6 years ago I transitioned back to full time nephrology at Adena Regional Medical Center where I continue to practice nephrology now on a part time basis. I also serve as a medical director for Ross County Health District.

---
Q: How long have you been a member of OSMA? What are the different ways you have been involved in the organization over the years?
A: I have been a member of the OSMA since 2002. In the past most of my involvement has been through participating in the annual meeting as a delegate and serving on the resolution committee.
---
Q: What are you looking forward to in working with the OSMA Council this coming year?
A: Increasing my knowledge of how the organization works especially in regards to the legislature.
---
Q: What do you see as some of the biggest issues facing healthcare in the coming year? How can OSMA work to address these issues?
A: Scope of practice, issues with 3rd party payers, continued support for telemedicine, and protecting gains regarding malpractice protection.
---
Q: What are some of the ways in which OSMA has supported your medical practice?
A: Lots of information on current events in medicine. Recently used OSMA resources to train for CTR.
---
Q: How can Ohio physicians get involved in OSMA and get the most out of their membership?
A: Go to the site and sign up for updates, utilize the educational materials. Go to the annual meeing for networking and to get up to date information regarding our current practice environment. Understand that OSMA is a significant influence on the environment of healthcare. Sign up for a committee here >
---
---
If you'd like to get in touch with OSMA leadership or learn more about Council, please email council@osma.org.