view all news
Complete Story

09/10/2019
Electronic Health Records Continue to Lead to Medical Malpractice Suits

Darrell Ranum, JD

A patient was treated with trigger point injections of opioids for pain management. The physician intended to order morphine sulphate 15 mg to be administered every eight hours. The electronic health record (EHR) drop-down menu offered 15 mg and 200 mg. The physician mistakenly selected 200 mg. The patient filled the prescription and took one dose with Xanax. The patient developed slurred speech and was taken to the emergency department (ED), resulting in overnight hospitalization and a malpractice claim against the physician for emotional trauma and the costs of the ED and hospital stay.
This type of EHR-related medical malpractice suit is becoming more common. For eight years, claims in which the use of EHRs contributed to patient injury have been on the rise.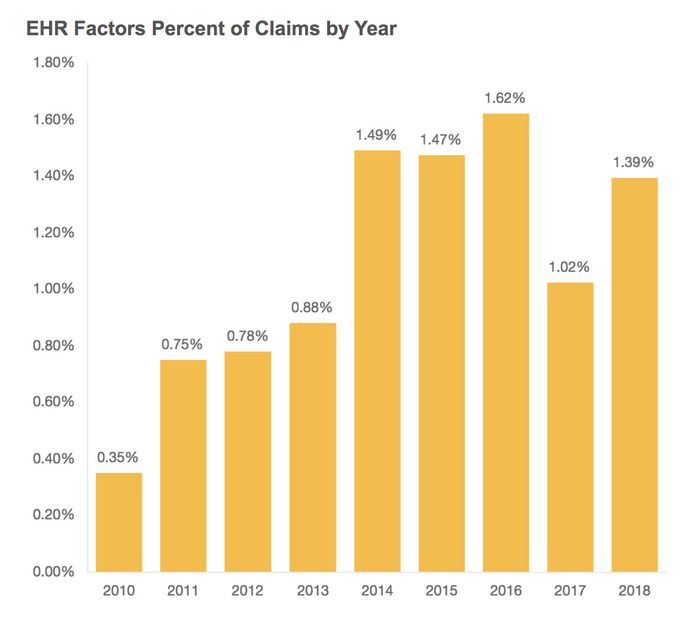 The Doctors Company's analysis of claims in which EHRs contributed to injury show a total of 216 claims closed from 2010 to 2018. The pace of these claims grew, from a low of seven cases in 2010 to an average of 22.5 cases per year in 2017 and 2018. EHRs are typically contributing factors rather than the primary cause of claims, and the frequency of claims with an EHR factor continues to be low (1.1 percent of all claims closed since 2010). Still, as EHRs approach near-universal adoption, they may become a more prevalent source of risk.
Where Do EHR-Related Risks Come From?
---
Provided by The Doctors Company
---
---