view all news
Complete Story

05/10/2022
OSMA Foundation Awards 6 Summer Scholars Stipends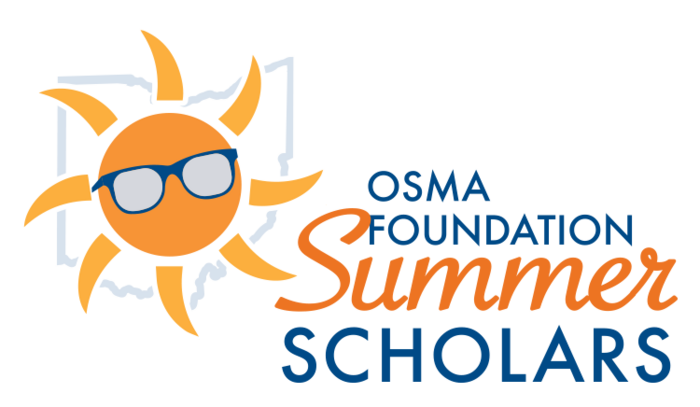 ---
A huge thank you to everyone who attended our first OSMA Foundation Reception on April 8 in Columbus. Thanks to your generosity, we raised more than

$11,500

to support the future of our Summer Scholars program.
The Foundation's April reception was also an opportunity to meet and celebrate our first cohort of Summer Scholars. Read on for more information about these bright medical students and how the OSMA Foundation Summer Scholars program is helping them pursue summer research and clinical opportunities to advance public health.
Kamala Nelson
University of Cincinnati College of Medicine
I will be conducting research through an internship under the mentorship of Dr. Timothy Pritts, MD/PhD in the Department of Surgery at the University of Cincinnati College of Medicine. I will be learning about shock and the biology of injury, and assisting in research intended to improve outcomes for injured and critically ill patients through the optimization of resuscitation strategies.

Anirudh Prabu
Case Western Reserve University School of Medicine
I am a first year medical student and a National Health ServiceCorps Scholar committed to serving as a primary care physician in an underserved area. I will be interning at the Ohio Department of Medicaid this summer. I believe this experience will help me develop an understanding of the policy work that dictates contracts with Medicaid managed care organizations.

Rebekah J. Russell, MPH
Case Western Reserve University School of Medicine
I will be interning and doing research with University Hospital in Cleveland. My work will be examining socioeconomic factors involved in preterm birth within Cuyahoga County. I hope that the results of this research will provide evidence for advocacy efforts to improve maternal and child health.

Megan Sharpe
Case Western Reserve University School of Medicine
I will be interning with the NorthEast Ohio Black Health Coalition. This organization is a community health/social justice organization focusing on creating ways to achieve health equity in the African American/Black population and other under-served populations. I will be participating in a public health/advocacy internship (most likely) centering around vaccines.

Noelle T. Thompson
University of Toledo College of Medicine
My primary professional goal is becoming a physician leader who advances global equity locally and internationally. I was recently accepted as a Global Health Fellow in the Duke Geneva Global Policy Program. As a summer 2022 fellow, I will be living in Switzerland and will participate in a course to learn from global leaders as well as working with an international organization to develop my policy and advocacy skills.

Matthew L. Yoder
The Ohio State University College of Medicine
During the upcoming summer months, I will be performing full-time research while continuing to support the Columbus Free Clinic as their Data Analyst and Electronic Medical Record Coordinator. My role involves weekly, monthly, and quarterly tasks in order to maintain clinic flow, raise funds, and implement interventions to improve the overall functionality of the clinic.
---

---

---