view all news
Complete Story

05/25/2023
Introducing OSMA's New President: A Q&A with Eric Drobny, MD
OSMA Leadership
---
At the 2023 OSMA Annual Meeting, Eric Drobny, MD was officially sworn-in as President of the Ohio State Medical Association. We are thrilled to welcome Dr. Drobny as our new President, and we thank Dr. Brian Santin who tactfully completed his term.
---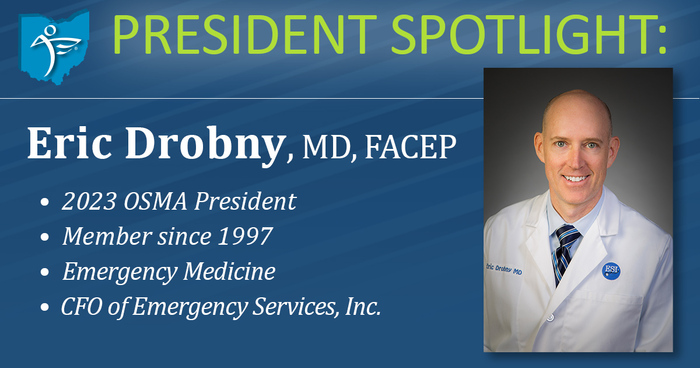 ---
Q: Tell us about your medical career. What is your role and where are you currently practicing?
A: Since completing my residency at Ohio State in 1997, I have been practicing emergency medicine in the Mt. Carmel Health System. I am a member of an independent group of emergency physicians, Emergency Services, Inc., and currently serve as its CFO.
---
Q: How long have you been a member of OSMA? What are the different ways you have been involved in the organization over the years?
A: I have been a member of OSMA since 1997. For the past 8 years, I have been on the Focused Task Force on State Legislation. I have also served on the OSMA Council since 2016, first as the District 7 Councilor for three terms and most recently as president-elect. I have chaired the Audit and Appropriations Committee. I was involved with OSMA's work the Ohio Surprise Billing Law and received the OSMA Advocate of the Year award in 2019.
---
Q: What are some of the ways in which OSMA has supported your medical practice?
A: Over the years my practice has benefitted from preferred vendor pricing discounts as well as from the practice management support. The biggest benefit we realized was from the OSMA's tort reform advocacy efforts 20 years ago – without which we may not have been able to cover our professional liability expenses.
---
Q: What are you most excited about in leading OSMA as President?
A: I look forward to engaging with OSMA members to learn what OSMA membership means to them and how the association can better support their practices. Resident and young physicians are also a priority of mine – I hope to identify what the OSMA could offer that would convert/retain them as members.
---
Q: What do you see as the biggest priorities in healthcare? And how can OSMA work to help move healthcare forward?
A: I think the biggest issue in healthcare is cost. We are spending 19% of GDP on healthcare – this is not sustainable. Over my career, these rising expenses can be attributed to pharma, payers, and hospitals. Physician reimbursement is flat, if not falling. The OSMA can help by supporting legislative efforts that curb the rising costs of care while protecting physicians from shouldering an unfair share of cost containment.
---
Q: How can Ohio physicians get involved in OSMA and get the most out of their membership?
A: I would start by going to the OSMA website and following the association on social media. Also, review the legislative updates to stay current on what is happening at the Statehouse. I would also consider volunteering to serve on a committee that aligns with your interests.
---
Q: Would you like to provide any thoughts and insight about any goals and initiatives you have for your presidency? Anything else you'd like to share with the membership of the OSMA at the start of your term as president?
A: As I mentioned at the annual meeting, I would like to foster the relationship between the OSMA and resident/young physicians. As we move away from independent practice to employed models the OSMA need to ensure that we are positioned to meet the needs of these physicians so that their practice, and the association, flourish.
---
---
The OSMA President and leadership Council participate in determining policy, responding to developing situations, and receiving and acting upon reports from committees and task forces. If you'd like to get in touch with OSMA leadership or learn more about Council, please email council@osma.org.
---