view all news
Complete Story

04/26/2022
Introducing OSMA's New President: A Q&A with Brian Santin, MD
OSMA Leadership
---
At the 2022 OSMA Annual Meeting, Brian Santin, MD was officially sworn-in as President of the Ohio State Medical Association. We are thrilled to welcome Dr. Santin as our new President, and we thank Dr. Lisa Egbert who tactfully completed her term.
Read on to learn more about Dr. Santin, his medical career, and his vision for OSMA.
---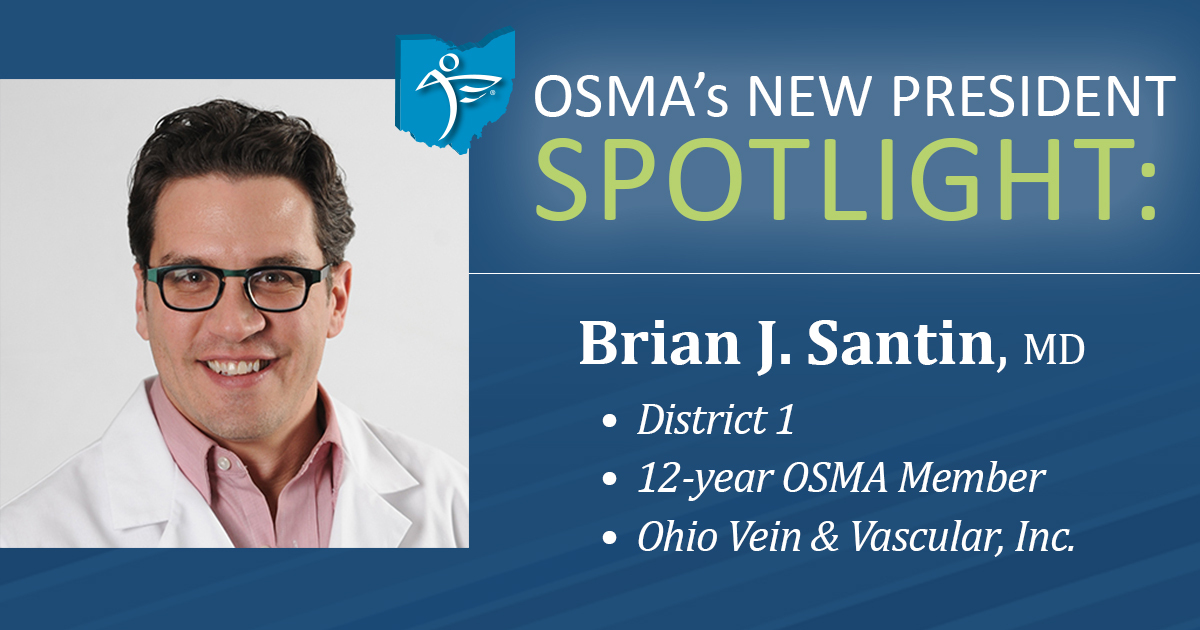 ---
Q: Tell us about your medical career. What is your role and where are you currently practicing?
A: I graduated with a bachelor's degree in Economics and Doctor of Medicine from The Ohio State University before going on to a General Surgery Residency at Mount Carmel in Columbus. Following this, I completed a vascular surgery fellowship at Good Samaritan Hospital in Cincinnati. Upon graduation, I began my solo private practice Ohio Vein & Vascular. Over the past 9 years, I've grown the practice to provide essential care for more than 6,500 patients in Wilmington, a small rural, underserved community in southwest Ohio.
In January 2020, I was named Chief Medical Officer of Clinton Memorial Hospital (CMH) in Wilmington and oversee all clinical aspects of care without the health system. I have been the Director of Vascular Services at CMH for the past 9 years.
I have sat on the AthenaHealth Physician Advisory Board and am active in legislative efforts within the State of Ohio, being named the Physician Advocate of the Year in 2016 by the OSMA. I am past-Chair of the Resident & Associate Society of the American College of Surgeons. I am the past-Chair of the Membership Committee for the American Venous Forum, past Vice President Board of Trustees for the OSMA Health Benefit Plan, and past-Chair of Membership for the American College of Surgeons, Ohio Chapter.
I am married to Crystal, the Practice Administrator at Ohio Vein & Vascular Inc, and have one 'child' – Whitney, a mini-Australian labradoodle who also joins me in the office as a Therapy Dog.
---
Q: How long have you been a member of OSMA? What are the different ways you have been involved in the organization over the years?
A: I have been a member of the OSMA for 13 years and have served the OSMA in several roles, including At-Large Councilor since 2014, Chair of Audit & Appropriations Committee, and Chair of Membership Committee.
---
Q: What are some of the ways in which OSMA has supported your medical practice?
A: One of the most prominent ways this organization has supported my practice, and arguably every physician practice in the state of Ohio, is through our unmatched advocacy efforts to Make Ohio Healthier. There is no better method of ensuring physicians retain their autonomy to care for patients the way they desire to than through advocacy efforts in the legislature. Monica Hueckel (Sr Director of Gov't Affairs), Joe Rosato (Director of Gov't Relations), Kelsey Stone (Research & Content Writer), and Jennifer Hayhurst (Dir of Regulatory Affairs) are a powerhouse team who lead these efforts, and are second to none in keeping the OSMA at the forefront of ALL healthcare related conversations and legislative efforts in Ohio.
---
Q: What do you see as the biggest priorities in healthcare? And how can OSMA work to help move healthcare forward?
A: Maintaining a collective, unified voice for physicians is of upmost priority in healthcare. Whether we are defending scope of practice, addressing errant rules and hurdles imposed by insurance companies, crafting proactive legislation to further enhance the patient-physician relationship, or working to solve issues related to the training of physicians in Ohio, being in-step with each other is essential. The advocacy arm of the OSMA is critical to ensuring the success of moving healthcare forward in Ohio, and we are fortunate to have assembled the most solid and successful government affairs team in Ohio.
---
Q: How can Ohio physicians get involved in OSMA and get the most out of their membership?

A: Simply let us know that you want to get involved – info@osma.org. There are several opportunities for OSMA members to participate; whether it be on a committee or task force, advocating with state or local government representatives, or helping develop programs that benefit patients and physicians across the state.
Ask me, Tell me. The OSMA and OSMA Council value the engagement of our members to achieve our mission to Bring Physicians Together for a Healthier Ohio and seek continual and regular member input of information, ideas, suggestions, concerns, and advocacy to advance that effort. Contact us — we look forward to hearing from you.
---
---
The OSMA President and leadership Council participate in determining policy, responding to developing situations, and receiving and acting upon reports from committees and task forces. If you'd like to get in touch with OSMA leadership or learn more about Council, please email council@osma.org.
---